Personality
Farhan Qureshi is an alumnus at the Imperial College of Engineering in Delhi. He is one of the main characters in 3 Idiots and a best friend of Ranchoddas Shamaldas Chanchad and Raju Rastogi. In fact he remains the narrator of the whole movie.
Farhan throughout his life had dreamt of being a professional photographer. However, Farhan disregarded his dreams in order to satisfy his parents desires. As a result, Farhan enrolled in Imperial College of Engineering (ICE). Farhan had continuously tried to live life by following his parents expectations throughout his college years. But still, it is also observed that Farhan is an intelligent and creative individual, who appreciates life and nature around him, and captures every moment on camera. His innateness for photography is seen first when he captures two dogs who Man Mohan (Millmeter) named "Kilobyte", "Megabyte" and "Gigabyte".
Farhan is seen to be a hardworking student, despite coming consistently last in exams. But throughout his college days, his friend Rancho (who was also a topper) continued to encourage him. From broad advice such as "chasing excellence", Rancho finally encouraged Farhan to convince his parents to pursue his true dreams of pursuing photography. Initially, Farhan's father initially questioned the decision, before finally agreeing. In the end of the movie, in Rancho's school, it was revealed that Farhan's hard work and creativity had paid off. He had written books which utilized his photography skills, which Rancho appreciated and read to others' in his school.

Story
Beginning
The movie opened with Farhan faking a heart attack on board an Air India flight, forcing an emergency landing after receiving a phonecall from antagonist Chatur Ramalingam who informed him that he has seen Farhan's long-lost friend Ranchoddas Shamaldas Chanchad around recently. Upon escaping from the airport and stealing a taxi which originally belonged to a guy named "Joghinder Dhillon", Farhan informs his other college friend Raju Rastogi about Rancho's presence. Upon excitement, Raju gets ready, however forgetting his socks and pants in the process. Farhan picks Raju up, and they both take the taxi to the Imperial College of Engineering, where they climb the campus watertower and reunite with Chatur Ramalingam (Silencer). Chatur had reminded them about the promise of meeting again ten years later, therefore boasting about his success and wealth, infuriating Farhan and Raju who primarily came up to look for Rancho. Chatur revealed he found Rancho in Shimla. Farhan, Raju and Chatur drive to Shimla and in the process, Farhan starts reminiscing his old college days.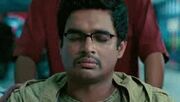 College Memories
Farhan was born in 1978, 5:30pm. Just upon presence, Farhan's dad signed a decree that his son will be an engineer. Farhan had a strong passion for wildlife photography but instead enrolled in the Imperial College of Engineering, in order to appease his dad. In college, Farhan received his room number and from there, he met Raju Rastogi for the first time.
Sometime later, Farhan and other freshmen students were forced to lower their pants in order to "respect the seniors". At this point, Rancho arrived and Farhan met him for the first time. Rancho was taken aback at the situation, and refused to lower his pants like everyone else. Instead, Rancho locked himself in his room and applied his scientific knowledge to perform "urine expulsion" on the bully.
[MORE EDITS TO BE DONE: WHAT ELSE HAPPENED WITH FARHAN IN COLLEGE?]
Post-Discussion
After Farhan spent ages negotiating with his dad, his dad agreed for Farhan to be a wildlife photographer. Farhan had then pursued his love for photography after listening to Rancho's advice. Then Virus was fed up with Rancho's influence with Farhan and Raju so he decided to deliberately modify the final exam papers so no one could graduate. Pia, in a drunken stupor, had given Rancho the duplicate key to Virus' office so that Rancho could steal the exam paper. There trying to steal the exam paper, Rancho and his gang were caught by Virus only leading to Rancho's rustication. Since Rancho used his engineering skills to help deliver Mona (Pia's sister and Virus' daughter) baby during a power cut due to a heavy storm, Rancho was considered the most extraordinary student, by Virus and then was considered student of the year.
Ending
Farhan's success over his wildlife photography goals were revealed. When he and his friends went to Rancho's school, it was shown that Farhan wrote books in the topic of wildlife, which too had exhibited his photography skills. Man Mohan had stated that Rancho had read all his books and admired them.
The movie then ended when Farhan and Raju (after Pia) reunited with Rancho in a sandbar. After having playfully kicked Ranchoddas Shamaldas Chanchad in the ass, he witnessed the crazy argument between Rancho and Chatur. Rancho's revelation of actually being Phunsukh Wangdu took Farhan by surprise.
Quotes
Farhan Qureshi: [after finding out Rancho topped their exam] That day we learned, when your friend flunks, you feel bad, when he tops, you feel worse. 
Farhan Qureshi: Today my respect for that idiot shot up. Most of us went to college just for a degree. No degree meant no plum job, no pretty wife, no credit card, no social status. But none of this mattered to him, he was in college for the joy of learning, he never cared if he was first or last. 
Pia V. Sahastrabudhhe: [Now that everyone knows, Rancho's real surname is not Chhanchhad] Thank God, after marriage my name wont be Pia Chhanchhad!  Raju Rastogi: So what is your actual name?  Rancho: Phunsukh Wangdu.  Farhan Qureshi: What?  Pia V. Sahastrabudhhe: [Thinking of her future name] Pia Wangdu?  Rancho: [to Raju & Farhan] Phunsukh Wangdu.  Farhan Qureshi: Phunsukh Wangdu? Silencer's Phunsukh Wangdu?  Pia V. Sahastrabudhhe: I don't want to be named Pia Wangdu!  Rancho: [to Raju & Farhan] Yes, kill me.  Pia V. Sahastrabudhhe: Can I keep my name after marriage? 
Farhan Qureshi: Rancho was right when he said "Pursue excellence, and success will follow, pants down!" 
Farhan Qureshi: I've always been a law abiding citizen. But in the last 24 hours, I grounded an airplane, nearly flushed someone's remains down the toilet, and helped Pia escape her wedding. All for Rancho. He would've done the same for any of us, too, like stealing a copy of the final exam that was designed for Raju's failure.