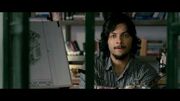 Joy Lobo had a passion for machines, just like Rancho did. In his project Joy was building a drone. His project was rejected by Viru Sahastrabuddhe a.k.a Virus because he couldn't complete it on time (as his father had a stroke) He threw the drone in trash but it was picked up and completed by Rancho. When Rancho flew the drone to Joy's window to surprise him, he saw that Joy had committed suicide by hanging himself.
Trivia
He was about to become the first engineer from his village.
His father had a stroke due to which he couldn't complete his project.
He was a great guitar player.
He committed suicide by hanging himself.
He wrote 'I Quit' on the wall of his room before committing suicide.